St. Croix Shopping - St Croix Jewelry - Duty Free Liquor
There are no customs duties on most merchandise, and there are no local luxury or sales taxes on purchases you make on St. Croix. U.S. citizens qualify for a duty-free allowance of $1,600.00 per person. Gift packages, worth $100 or less, have no limit and can be shipped back to the mainland U.S via the U.S. Post Office. There is a limit of five cartons of duty-free cigarettes. You may bring up to five fifths of liquor duty-free and you can also bring another fifth of a locally produced liquor such as Captain Morgan Rum and Cruzan Rum. More duty free information... You don't need to go to St. Thomas to get the best prices on name brand items such as watches and jewelry by Movado, Citizen, Raymond Weil, Kabana, Robert Coin, Yvel Pearls, Edward Mirell , and Titanium to name just a few.
You will find shopping all over the island including mid-island in the Sunny Isle shopping center, in Frederiksted and in Christiansted. Christiansted, the largest town on the island has the most shopping, but you will also find shopping in Frederiksted, especially when a cruise ship is in port. The Market Place is also in Frederiksted. It is still in use, with island grown produce and tropical herbs for sale. The Sunny Isle shopping center is a great place to find local jewelry stores with discounted prices.
You'll find other types of shopping such as Cost-U-Less (our island version of Costco...without a membership fee), the Plaza Extra Grocery stores, and the two Kmarts on the island have great prices for liquor. Be sure to bring home some of St. Croix's Captain Morgan Rum and Cruzan Rum. You can get light, dark, single barrel and a large selection of deliciously flavored rums.
Christiansted
King's Alley Walk

Company Street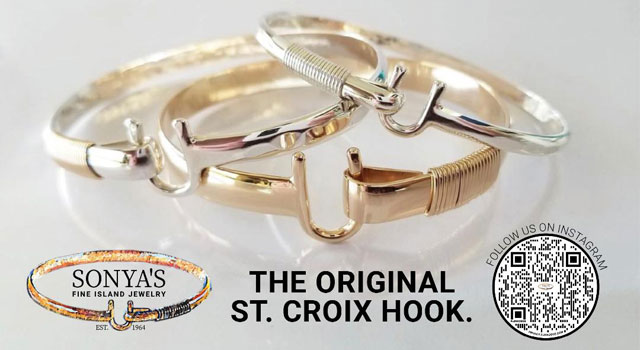 Sonya's Fine Island Jewelry - 340-778-8605 - Often imitated...but never duplicated. A lasting memory of St. Croix is the original St Croix hook bracelet from Sonya's Fine Island Jewelry. Wear the hook up or down, depending on your luck or love. Fine handcrafted jewelry. #1 Company St. Christiansted, St. Croix, USVI 00820. Visit our website: www.sonyaltd.com
Design Works - Island Living Store - 340-713-8102
Mitchell Larsen Studios - Art studio for glass artist Jan Mitchell and and the photography of her husband Steffen Larsen. 340-719-1000
ib designs - handcrafted jewelry designed by artist Whealan Massicott. Elegantly fashioned using jewelry using both silver and gold. 340-773-4322
Quin House Galleries - hand crafted home furnishings in mahogany and teak. Reproductions of West Indian furniture, 340-773-0404
Small Wonder - Kids clothing, 340-773-5551

Do you love soaking up the sun and relaxing waterside?!
The Lazy Lizard Beach Pillows and Pool Pillows are the new must have accessory and go-to gift.
Get ready for the beach and pool with a new pillow and soft and cozy oversized beach towels. Which color will you choose?
Go to https://www.LazyLizardShop.com to order pillows and www.SonyaLtd.com for island bracelets.

King Street
Pananche Jewelers - 340-719-6624


On the Boardwalk
Caribbean Sea Adventures - 340-773-2628

Queen Cross Street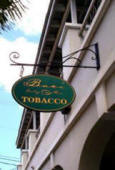 An, elegant, European-style boutique specializing in designer sunglasses, porcelain, jewelry, watches, fine cigars, liquor and more.
St. Croix's only walk-in cigar humidor.
"The Best of V. I. 2008" - Diamonds
"A Taste of St. Croix" - Best Rum Drink
"The Best of V. I. 2008" - Cigars



Click here to see our webpage>>>
1235 Queen Cross Street. 340-773-5040
Big Beards Centipede The Outdoor Store - 340-773-4482
Hot Heads - Tel/Fax 340-773-7888.

Caravelle Arcade
SCU-Boutique- Island-inspired fashions and accessories for men, women and children. 340-773-5994 or 877-567-1367

Strand Street
Crucian Gold - 340-773-5241 - The love not collection in gold, silver, copper and brass. Celebrate love with unique designs, and carefully handmade jewelry from St. Croix! Come in and "Feel the Love". www.cruciangold.com
Royal Poinciana - Local condiments and jams, soaps and lotions, unusual gifts, exotic coffees and teas, 340-773-9892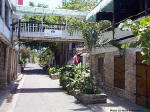 Pacific Cotton - sandals, scarves, jewelry, beach bags, Toucan hats & matching purses -340-773-2125
Dive Experience - Quality SCUBA and snorkel gear at great prices. 340-773-3307 • 800-235-9047

Pan Am Pavillion
Cane Bay Dive Shop East - at the boardwalk. Snorkel gear, to tropical clothing and gifts. 340-773-4663
Nelthropp & Low Diamonds and Fine Jewelry - Phone: 340-773-0365, 800-416-9078
Purple Papaya - 340-713-9412 - Nested in the Heart of St. Croix's Historic Downtown Christiansted, and Embedded in the Hearts and Minds of any and everyone who has ever entered through its doorways, is The Purple Papaya Souvenir and Gift Shop. We have a large selection of Caribbean souvenirs, the latest in designer fashion wear, Sweatpants, Sweatshirts, the largest selection of embroidered and printed t-shirts, Hawaiian shirts, suntan lotions and sprays, sunglasses, towels, hats/caps & visors, disposable cameras, batteries and quality beach/swimwear. We also carry a popular selection of cold drinks, and you can't forget about the RUM! Purple Papaya offers a free tasting bar to aid in the ever so hard decision of which Cruzan flavor you love the most. So, if you are looking for excellent customer service, and quality merchandise for a low price, come on in to the Purple Papaya, It's the island's one stop spot for all your duty free shopping, and vacation needs... It's where you always get more for less!!!
Steele's Smokes & Sweets - When you visit Steele's Smokes and Sweets, the very first thing you notice is how good it smells! Homemade Fudge Gourmet Chocolates Premium Cigars Rich Pipe Tobaccos and International Coffees - 340-773-3366

Frederiksted
Cane Bay Dive Shop West - Snorkel gear, to tropical clothing and gifts. 340-773-4663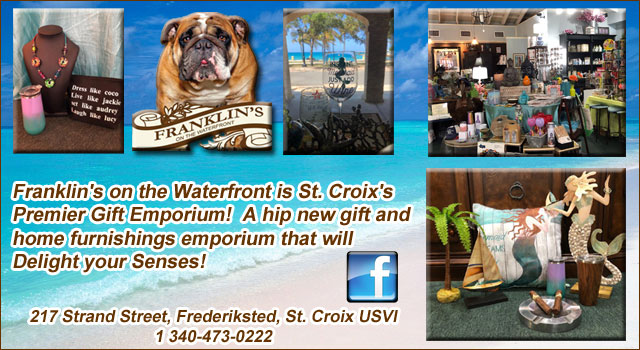 Franklins on the Waterfront - 340-473-0222 - St. Croix's premier gift emporium! A hip new gift and home furnishings emporium that will delight your senses!
St. Croix Landmarks Museum Store - West Indian crafts, art, furnishings, and Caribbean maps. Located at the Whim Museum Store in Frederiksted.

Gallows Bay
The Traveler's Tree - 340-719-7176 - Home accessories and gifts.

Sunny Isle (mid-Island)

The Captain Morgan Gift Shop carries all things branded by our fearless leader. My crew carries an assortment of spirits, branded t-shirts, polo shirts, glassware, barware, hats, beach towels and bags. You may purchase Captain Morgan products except for our spirits online; U.S. Virgin Islands laws prohibits us from selling liquor online. Please visit us: www.captainmorganvisitorcenter.com
Located mid-island in the Sunny Isle Shopping Center and specializing in 10k, 14k, and 18k jewelry, gemstones, diamonds, silver, watches, cameras, perfume, sunglasses, and much more!


Be sure to purchase your "St Croix Hook" bracelets here...why pay higher prices in Christiansted when you can get the same quality for much less at
Perfection Jewelers! Custom Jewelry also available.

www.PerfectionJewelers.com ~ 1-340-778-4653 ~ 21 Sunny Isle Shopping Center