Roseway - St. Croix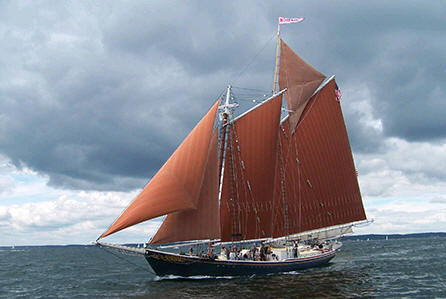 In the fall of 1920 a Halifax, Nova Scotia, newspaper challenged the fisherman of Gloucester, Massachusetts, to a race between the Halifax fishing schooners and the Gloucester fleet. Therefore many schooners, such as Roseway, built at this time were not strictly designed for fishing but in order to protect American honor in the annual races.

Roseway, 137′ in sparred length, was designed as a fishing yacht to compete against the Canadians by John James and built in 1925 in his family's shipyard in Essex, Massachusetts. Father and son worked side by side on Roseway, carrying on a long New England history of wooden shipbuilding. She was commissioned by Harold Hathaway of Taunton, Massachusetts, and was named after an acquaintance of Hathaway's "who always got her way." Despite her limited fishing history, Roseway set a record of 74 swordfish caught in one day in 1934.

Roseway was built and maintained to an exceedingly high standard, using a special stand of white oak from Hathaway's property in Taunton. She had varnished rails and stanchions and had a house built for her every winter. She was so well maintained that the coal for the stove was washed before being stored in the bunker. This kind of treatment, which contributed to her longevity, was unheard of in the commercial fishing fleet.


Beginning in 2002 Roseway underwent a two-year restoration. The school embarked on the maiden voyage to the Great Lakes during the summer of 2005. This voyage was a trial for the ship as well as an opportunity to build support and exposure for the developing School.

In May 2006 Roseway and the World Ocean School relocated to Boston, Massachusetts where program development continued as Roseway was open to the public for the summer season doing day sails and charters.

In November of the same year, Roseway embarked on a passage to St. Croix USVI where she spent the winter serving island students. St. Croix has now become the new winter home port for Roseway. She still summers in the Northeast, primarily in Boston, providing education programs and day sails for the public.

After 84 years of service, she is one of only six original Grand Banks schooners, and the only schooner specifically designed to beat the Nova Scotians in the international fishing vessel races of the 1920s and 1930s. She is a registered U.S. National Historic Landmark operating in Boston and St. Croix, USVI. www.WorldOceanSchool.org