Search this Website
About St. Croix
Accommodations
Activities
Airport Info
Attractions
Beaches
Buck Island
Car Rentals
Cruise Ship Info
Customs Info
Day Trips
Dining/Restaurants
Emergency Numbers
Entertainment
Events Calendar
FAQ's
Fishing Charters
Horseback Riding
Hotels / Resorts
Island Tours
Living and Moving Here
Maps
Massage / Spa
Medical Doctors
Passport Requirements
Photos and Videos
Places to Visit
SCUBA / Diving
Shopping / Duty Free
Transportation
Water Sports / Activities
Weather Forecast
Weddings
Webcams


Aerial Views of St Croix

St. Croix, USVI
St. Croix is part of the U.S. Virgin Islands and is an island paradise complete with lush tropical
hills, warm and brilliantly turquoise water, a rich history and a wonderfully tropical climate. It is the hidden gem of the Caribbean! You will find beautiful white sand beaches...fabulous, tropical weather...great dining and restaurants...lots of duty free shopping...incredible SCUBA diving...three golf courses and two historic and charming towns...all wrapped up in a friendly and laid back island atmosphere. You won't find the crowds that many other Caribbean destinations can have, and it's easy to travel to St. Croix from the mainland. U.S. citizens don't need a passport. "Saint Croix" is only a 30 minute flight from the international airport in San Juan, Puerto Rico, and direct flights from the states on American Airlines (via Miami), Delta (via Atlanta) and JetBlue (via San Juan).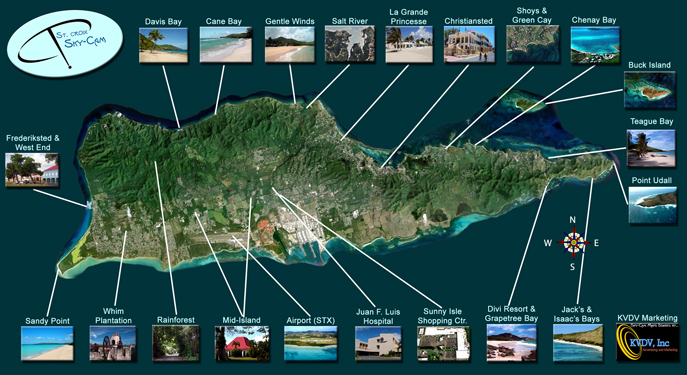 About Us | Contact Us | Advertise | Privacy | Legal
Copyright StCroixTourism.com. All rights reserved. 2003 - 2023 ©
All website contents including pictures are the property of the owners, unless otherwise noted, and may not be used for any other purpose without express written permission by the owners of this website. If you see errors, bad links or any information that is out of date or incorrect please contact our webmaster. Thank you!