St. Croix Restaurant and Dining Guide - Places to Eat on St. Croix
St. Croix, USVI has some of the best restaurants and bars in the Caribbean. You will find places to eat on the island including everything from from traditional island cuisine, using the freshest of ingredients, to Chinese take-out. You'll experience everything from very fine dining restaurants, serving the freshest seafood, to fun beach bars, to regular fast food restaurants like KFC, McDonald's, Wendy's and Pizza Hut... along with everything in between.! Use this dining guide to find the many great places to eat on St. Croix. The restaurants on St. Croix have it all!
If you are staying at a private villa or condo, you can have a professional chef prepare you a meal in the comfort and privacy of your villa or condo rental...or they can prepare your meal for you and deliver it all packaged and ready to heat up or take on a picnic!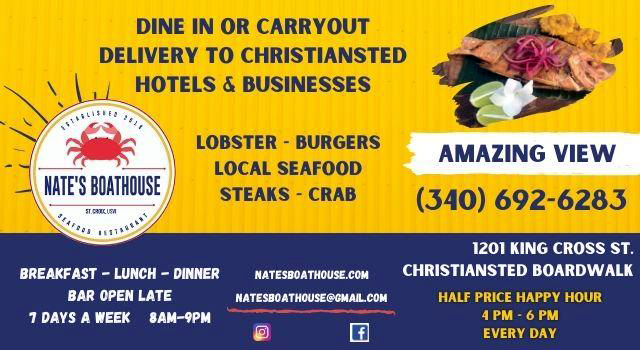 Nate's Boathouse & Seafood Emporium
At Nate's Boathouse & Seafood Emporium we locally source our seafood as well as import some of the finest fresh fish and shellfish from the continental United States. We pride ourselves in offering you the freshest produce available. Items available will change with the seasons. We currently serve the famous Beyond Meat Burger as well as other tasty treats. Breakfast, lunch or dinner, you are sure to find something delicious!
We specialize in fresh seafood dishes cooked to perfection by Chef Sean Skerrette, as well as many other tasty treats that are a perfect compliment to our unbeatable view of the scenic Christiansted Harbor.

Serving breakfast, lunch and dinner 365 days a year. Enjoy the view while sipping on a cold, refreshing beverage during our HALF PRICE happy hour from 4:00 pm to 6:00 pm DAILY!
1-340-692-6283 - www.natesboathouse.com
Bombay Club - Nice ambience with stoned walls and wood beamed ceilings. MC, VISA.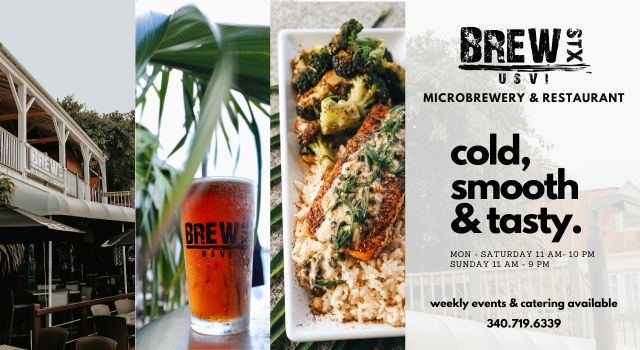 BREW STX - 340-719-6339 - Located directly on the beautiful Boardwalk in downtown Christiansted with gorgeous harbor and ocean views. Delicious food and freshly brewed beer. Appetizers, sandwiches, burgers, rice bowls, daily dinner specials, live music. Open Thursday thru Tuesday 11am to 9:30pm, closed on Wednesdays. Be sure to check out our Facebook Page and our Instagram Page.
Dashi - 340-773-6911 - Specializing in Sushi. Over 30 different Maki-Sushi Rolls
Harvey's - 340-773-3433 - experience local Caribbean food such as mutton stew, fish cakes, curried goat and pates. Don't leave St. Croix without trying some "real" local food...give it a try! You'll see murals of professional basketball star Tim Duncan on the outside of the restaurant (Tim was raised on St. Croix!). Don't be shy...the prices are reasonable, the staff is friendly and the food is fantastic! Open 11:30am - 3:00pm.
Kim's - 340-773-3377
Luncheria - 340-773-4247 - 6 Company Street, Christiansted - The Best Frozen Margaritas on the island as well as cheap and good Mexican Food. Lunch and Dinner 11a-9p Mon-Sat.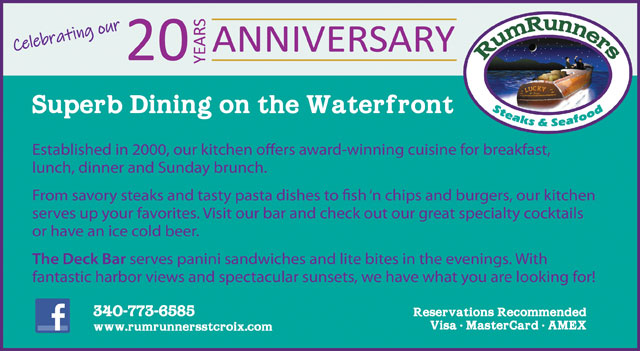 Rum Runner's - 340-773-6585 - Steaks, seafood, pasta and more. The best views, right on the waterfront. Open for Breakfast, Lunch, Dinner and Sunday Brunch. Reservations recommended. VISA/MC/AMEX

Rum Runner's Deck Bar - 340-773-6585 - Serving Panini sandwiches, light bites and cool cocktails. With fantastic harbor views and spectacular sunsets, we have what you are looking for! Open daily 4:00 pm-9:00 pm.
Savant - 340-713-8666 - Caribbean, Thai and Mexican influenced dishes ...absolutely wonderful! Indoor and outdoor dining and bar. Plenty of parking in the rear.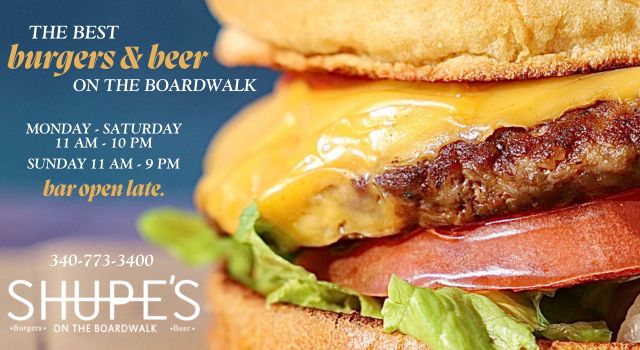 SHUPE'S on the Boardwalk - 340-773-3400 - Affordable Waterfront dining featuring freshly hand ground burgers, hand cut fries, beer, wine, cocktails and much more. A laid back & relaxing atmosphere with good drinks, great food, & even better views!
Singh's Fast Food - 340-773-7357 - West Indian/Caribbean. Great local food to go. In business for over 25 years, Singh's offers Roti (sort of an island burrito), curry goat, chicken, beef, or shrimp local sides. Be sure to try some!
Zion Modern Kitchen - 340-773-9466 - simple food. quality sources. made with love. Finest steaks, chops, seafood, pasta. We care about what you eat. We cook with fresh and sustainably raised foods when at all possible and to treat each meal and customer with love and respect. Vegan options available. Open Wednesday - Sunday, 5-10pm, reservations recommended
No Bones Cafe - 340-773-2128 - Gallows Bay, Christiansted, Closed weekends in summer. Full Bar. Reservations Requested for dinner, AX, MC, V
Sharkey's Bait Stand - 1-340-719-9935 - Sports Bar
Blue Water Terrace - 340-692-2583 - Restaurant, Market, Deli. Great food with a spectacular view of Buck Island. Located on the east end. Don't miss this place! Award winning Sunday Brunch/Lunch 10am to 3pm, Dinner 5-9pm; Monday Dinner 5-9pm; Tuesday Closed; Wednesday Closed; Thursday Dinner 5-9pm; Friday Dinner 5-9pm; Saturday Dinner 5-9pm. For regular menus and more information, www.BluewaterTerraceVI.com
The Mermaid is located beach side, at the Buccaneer Resort, with an extensive menu of savory seafood and specials, soups, salads and sandwiches, and gourmet meals that include all-American favorites, island specialties and vegetarian.
There is also a full bar, including frozen island favorites and vintage cocktails.
Open for lunch and dinner. We have ample parking. Call for reservations. The Terrace Restaurant, located in the Buccaneer Great House, offers fine dining nightly.

email: concierge@thebuccaneer.com reservations recommended.
www.TheBuccaneer.com/dine - 340-712-2100
Cheeseburgers in America's Paradise - 340-718-1118 - Serving lunch and dinner everyday. Awesome burgers, daily specials and fresh seafood. Full bar and specialty frozen drinks. Live entertainment on the weekends. Casual, family friendly atmosphere and moderate prices. VISA / MC accepted.
Cultured Pelican - 340-773-3333
Deep End Bar & Grill – 340-718-7071 - Beach bar and restaurant located at the Tamarind Reef Hotel and Green Cay marina. Breakfast, Lunch and Dinner. Beautifully remodeled and expanded. AX, MC, VISA, DC.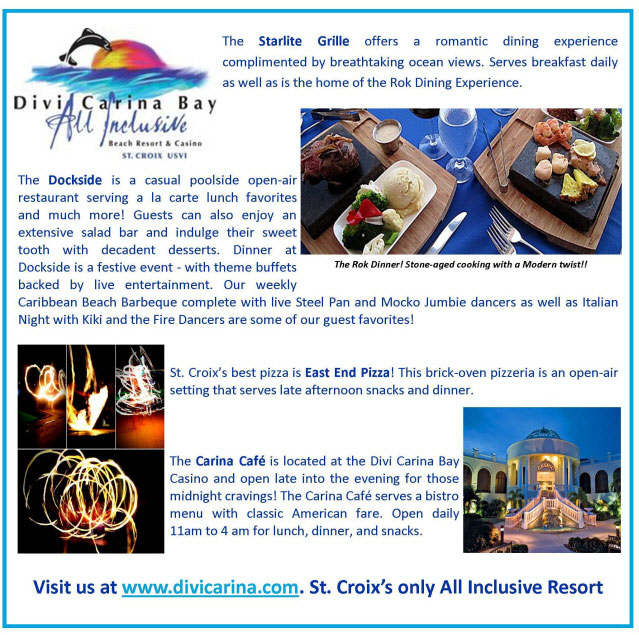 Divi Carina Bay All Inclusive Beach Resort & Casino Restaurants - The Starlight Grille, The Dockside, East End Pizza and The Carina Cafe. From elegant to casual poolside dining.
Duggan's Reef - 340-773-9800 - Seafood & Steaks, in an open-to-the-breeze setting right on the beach!
Sai Gon Deli - 340-713-1111 - Handmade Vietnamese Food on St. Croix. 2017 Taste of St. Croix Winner! Fresh Ingredients, Full bar, Happy Hour Mon to Wed 4-6pm 50% Off drinks and food discounts, Catering available, To Go Orders. Located across the street from Canegata Ball Park. Open: Mon-Thurs. 11-7pm, Fri. 11-9pm, Sat 4-9pm, We are closed on Wed..
West of Christiansted
Breezes Beach Bar- 340-718-7077 - Seafood, salads, pastas, prime rib, brunch, etc.
The Palms at Pelican Cove - 340-718-8920 - located at Pelican Cove Condos.
Seini's Golden Rail - Mill Harbour condos
Un Amore - 340-692-9922 - Hand made pastas, pizza, fresh mozzarella, ricotta, local greens, fresh fish and homemade cannolis and tiramisu. We care about the food we prepare as much as we care about every guest that comes through our door.
| | |
| --- | --- |
| | Montpellier Domino Club - (Sorry phone not working) - Located on route 76 (Mahogany Rd.) in the rainforest. Great food, drinks and entertainment. Home of the famous "Mama Wanna" and the beer drinking pigs! Daily food special. One of the coolest bars you will ever see! Norma, the bar's owner, is always there with a big smile and some great home cooking. Try the sweet & hot sauce with some of her chicken. On Wednesdays and Thursdays, she makes some of the best burgers anywhere. Each day Norma cooks something delicious to eat! |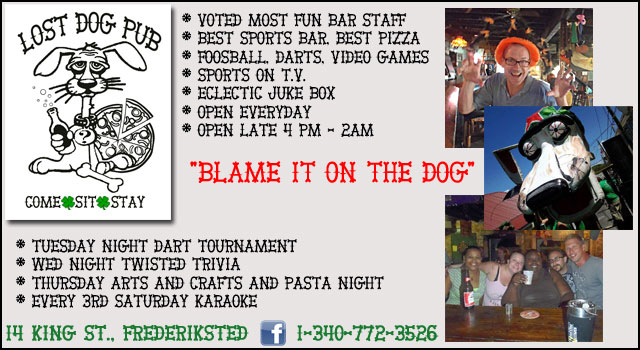 Lost Dog Pub - 340-772-3526 -

Voted most fun bar staff, best sports bar and best pizza on the island! Besides our delicious pizza and other menu items we have Foosball, darts, video games, sports on TV and an eclectic juke box. Check out our specials. Open everyday, from 4pm - 2am. located one block back from the water front at 14 King St., Frederiksted, St. Croix. Come - Sit - Stay!
Beach Side Cafe at Sand Castle On The Beach - Located at Sand Castle on the Beach Hotel in Frederiksted, the Beach Side Café is seaside dining at its best. Local and international flavors compliment the freshest seafood, prime beef and locally sourced produce throughout our menu. House-made desserts and cocktails and mocktails from our lounge round out your day in the tropical sun with a spectacular show as it sets into the water. Available for large parties and special events, the Beach Side Café is ready to serve you. Call 340-772-1266 or visit www.beachsidecafeatsandcastleonthebeach.com;

Pier 69 - 340-772-0069 - American, Mexican
Turtles Deli/Liquors - 340-772-3676 - Hot & cold sandwiches, salads, fresh baked breads. Seaside lunch on covered patio or to go.
Villa Morales - 340-772-0556 Located just outside of Frederiksted, Villa Morales specializes in both West Indian and Spanish cuisine.
West End Grill - 340-772-2160 - Local Crucian & Latin - Cash or Travelers Checks Only.
330 King St. Downtown Frederiksted
Off the Wall Beach Bar - 340-778-4771 - Casual Beach Bar serving pizza, burgers, salads, sandwiches, daily specials, live music. VISA and Mastercard
Rowdy Joe's - 340-718-0055 - "good mood food" using fresh local ingredients. Enjoy an espresso, wireless Internet, watch your favorite sports, homemade ice cream.
Carambola Golf Club - 340-778-5638, at Carambola Golf Course, Open every day in Season, call for service hours May 1st - October 31st.
Leatherback Landing @ Cane Bay - Beach Bar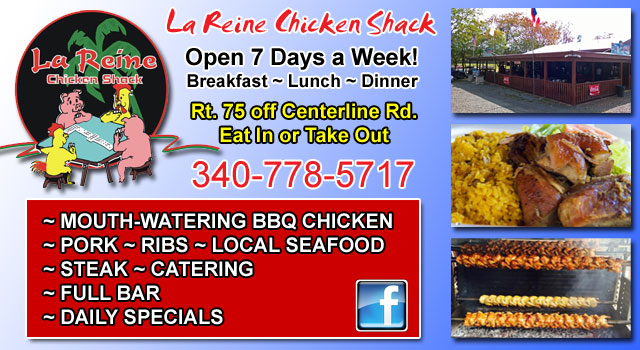 La Reine Chicken Shack - 340-778-5717 - "The best BBQ chicken on St. Croix!" True island culture makes this outdoor restaurant one of a kind. Kitchen is open 7 days a week, Monday through Wednesday, 10:30am till 6:00pm. Thursday through Saturday, 10:30am till 8:00pm. Sunday 10:30am till 4:00pm. We are closed the last Sunday of every month for maintenance.
Gertrude's – 340-778-8362 - Local St. Croix eatery and catering. Sandwiches, salads, burgers, seafood, chicken, steak
Joe's Bar & Grille - 340-692-2020
Soul Vegetarian - 340-778-4080 - African, Caribbean, and American dishes
Carambola Golf Club - Gary Klienfelter, 340-244-4595

Top Class Catering - 340-773-0632 - Contact: Burton Peterson