St. Croix, USVI
St. Croix is part of the U.S. Virgin Islands and is an island paradise complete with lush tropical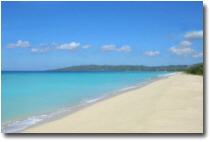 hills, warm and brilliantly turquoise water, a rich history and a wonderfully tropical climate. It is the hidden gem of the Caribbean! You will find beautiful white sand beaches...fabulous, tropical weather...great dining and restaurants...lots of duty free shopping...incredible SCUBA diving...three golf courses and two historic and charming towns...all wrapped up in a friendly and laid back island atmosphere. You won't find the crowds that many other Caribbean destinations can have, and it's easy to travel to St. Croix from the mainland. U.S. citizens don't need a passport. "Saint Croix" is only a 30 minute flight from the international airport in San Juan, Puerto Rico, and direct flights from the states on American Airlines (via Miami), Delta (via Atlanta) and JetBlue (via San Juan).

Click here for official U.S. Virgin Islands Department of Health Information on Covid-19 (coronavirus).
Good News for St. Croix!
Restaurants and bars are now open with a 50% seating capacity up to a maximum of 50 customers at any given time and with table 6 feet apart, employees must wear masks, no parties larger than 6 per table, etc.

St. Croix is currently in the "Blue - Open Doors" phase of reopening which is the phase next to the "New Normal" phase. This means that people can fly to St. Croix without a quarantine***. All businesses are allowed to open, as well as all indoor/outdoor facilities. All of the territory is opening up with the exception of schools and day cares and limited nursing home limitations. Facial coverings are required in all commercial entities.
***Beginning Wednesday July 15, residents of states that have 10% or greater positive test results, currently including Alabama, Arizona, Florida, Georgia, Idaho, Kansas, Mississippi, Nevada, South Carolina and Texas must present test results showing they are negative for COVID-19 or positive for COVID-19 antibodies upon their arrival into the Territory. Test should be taken within 5 days of arriving in the U.S. Virgin Islands, or visitors can opt to take a test when they arrive. Individuals who do not show test results or take a test locally must go into a 14-day quarantine. You can track your state here, https://coronavirus.jhu.edu/testing/tracker/overview

About Us | Contact Us | Advertise | Privacy | Legal
Copyright StCroixTourism.com. All rights reserved. 2003 - 2020 ©
All website contents including pictures are the property of the owners, unless otherwise noted, and may not be used for any other purpose without express written permission by the owners
of this website. If you see errors, bad links or any information that is out of date or incorrect please contact our webmaster. Thank you!